I literally wait the whole week... I love how they are so encouraging and supporting. I love every aspect of class and it makes me realize that may be I have the worth to do something in life I will actually enjoy. Prerna, School Student.
If you are looking to enjoy learning music, this is the place to be. This music school is professionally run .. ...I can appreciate music and the joy it brings
A great place to enhance vocal techniques and the ambience that Serene Ma'am provides is unquestionably pleasant and amiable. The perfect place for a Systematic and easy approach to learning and broadening ones musical skills.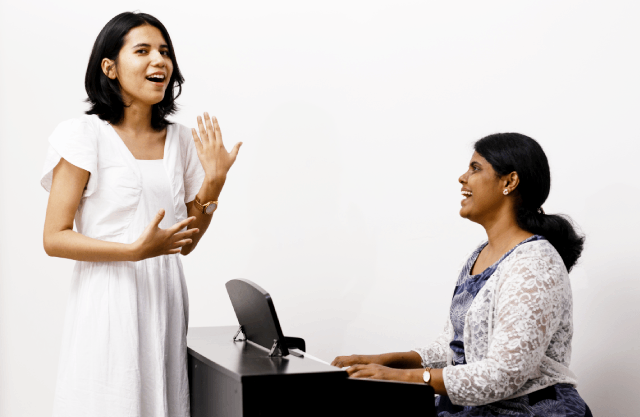 We at MuzicEdu believe that the everyone can sing. We have been training learners of different age groups and proficiency.
In MuzicEDU, we believe singing is for all and everyone can sing. Singing is a basic expression of an individual though the degree of proficiency of singing may vary. Some say that it is the glorified form of speech as it is the natural extension of speech.
Our intention is to help and grow every aspiring singer at whatever stages of musicality they may be in, not only to develop their musical learning but also to grow them as a confident individual in making music. Our curriculum or approach to teaching singing is,
Technical Fluency
Musical Accuracy
Repertoire Building
Musicianship skills
Musical literacy
Grow as a person
In MuzicEDU, we believe each singer is a musician and want to help them develop holistically in all aspects of musicianship like sight singing, ear training, rhythm training, exposure to different styles and era, music theory, etc. along with understanding their instrument which is their Voice.
We want to care for each individual by assessing their current level and to cater to them accordingly. This reflects in our customized goal setting and lesson planning. 
We also believe in a more Learner- centered teaching approach where the needs, expectations and goals of the learner are given utmost importance and are weaved into the planning of the curriculum.
The lesson customisation allows every learner to take different pathways. Some take a more systematic study of voice, some learn as hobby learner and some take a exam pathway by doing singing exams offered by different international boards. Whatever the pathway the learner takes, at MuzicEDU we are glad to help. 
We also provide Customised courses for different needs of learners. The rigour, pace, content and duration of these courses are customised to the needs of the different kind of following learners.
Kids
Hobby learners
Professionals
For more information, contact us here